ANNUAL FISH & TREE SALE
The District hosts a fall and spring fish sale and an annual spring tree sale. For more information on fish or tree species available please click on the links below. Also, if you do not see a particular species on our list that you are looking for, please feel free to give us a call and we can try and help get what you are looking for.
2017 Spring Fish Sale                                                                  Fish Species Descriptions
2017 Spring Tree Sale                                                              Tree Species Descriptions
---
The new plat books have approximate land ownership, parcel boundaries, and on the opposite page an aerial photo of the township. The new books also have city & village maps. . We will order as requested and paid for. 2009 Plat Books are available in office for discounted price! Furthermore we will have a brand new plat book in the Spring of 2015!!
Price:
$30.00 in the office
$35 mailed to you
Colored Flag Markers
Assorted colors (white, pink, blue)
Price:
$.10 each
100 flags = $10.00
---
RENTALS
Need to clean up your waterway or level out the spoils in your field from having your drainage ditch cleaned out???The Piatt County SWCD rents a scraper for only $125.00 for two working days or $75.00 for one working day.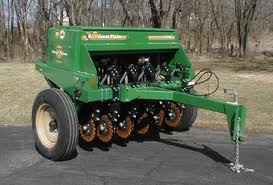 The Piatt County SWCD rents a 10′ Great Plains no till drill out for our Local Pheasants Forever chapter. The drill has available options for native grass plantings. Need to plant a grassed waterway, field border, or filter strip? You can stop by and rent our drill today!
The drill rents for $50 per use.
(217) 762-2571 ext. 3